OpusFSX Flight Simulator Interface for Microsoft Flight Simulator X and Lockheed Martin's Prepar3D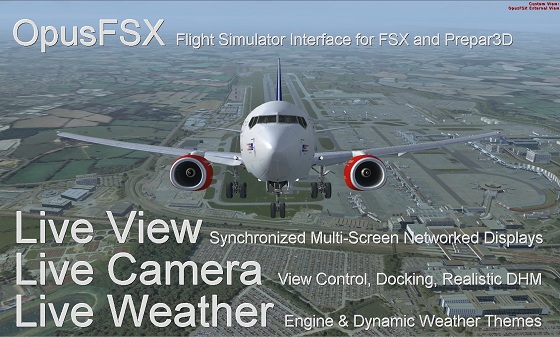 OpusFSX The ultimate Flight Simulator Interface for FSX and Prepar3D with,

Live Camera for view control and dynamic head movements,
Live Weather Engine for real world live weather updates, and
Live View for synchronized multi-screen networked displays,
OpusFSX helps take reality to the next level by combining three excellent programs into one user friendly interface, setting new standards of performance and realism throughout its novel design. The OpusFSX interface is ideally suited to both standalone and networked FSX systems making it the ideal addon for cockpit builders and general users alike.

On standalone systems, OpusFSX incorporates two superb functions through its Live Camera and Live Weather Engine interfaces.
Live Camera provides excellent camera creation, control and docking facilities through its user friendly interface, totally eliminating the need to alter any of the simulator's controls. The Live Camera interface also includes support for Windowed Views and provides an ultra-realistic Dynamic Head Movement option (virtual cockpit camera shake) utilising actual 'real-life' capture 3D accelerometer data and Automatic Head Movements to assist the pilot whilst taxiing and banking in a turn.
The Live Weather Engine provides the most advanced weather updating software in the marketplace. The use of Dynamic Weather has set new standards for weather updating for the FSX and Prepar3D flight simulators. These methods provide the most detailed, realistic and efficient weather updating service and offer huge benefits over the sluggish, inaccurate and totally unrealistic update methods employed by others.
OpusFSX also includes many excellent Static Weather Themes for use on the FSX and Prepar3D simulators. Alternatively, the Live Weather Engine allows you to create and name your own themes based on the current live METAR reports.
On networked systems, irrespective of the size and complexity of your system, whether your system consists of a main 'flying' PC with a single networked laptop client, or a more elaborate multi-computer networked system; the Live View interface, with its ultra high-performance IPC communications, unique Client Side Smoothing software, and perfect synchronization of aircraft status, weather and cloud formations, will provide you with the highest possible networking performance. Whether you simply want an additional controllable display to provide further scenic or external view options, or wish to create a multi-screened panorama for your FSX or Prepar3D experience, Live View offers you the ideal hassle free user-friendly solution.
Your main 'flying' OpusFSX server is the machine through which you control the aircraft. The networked client OpusFSX systems are synchronised to the server through multiple ultra high-performance IPC links, the client systems are used primarily as view controllers. The networked systems allow you to create a multi-screened simulator system without placing the full workload and burden on your main system.

From this set up it therefore follows that all in-cockpit or instrument panel views used to control the aircraft must be displayed on the main server. All other views (scenic or external) can be offloaded onto the client systems. You can create wide panoramic vistas this way, or additional external aircraft views, without draining the resources on your main system or degrading its performance.
Live Camera Features
Live Camera provides a user-friendly interface for creating, controlling and managing any number of virtual cockpit, 2D cockpit and external aircraft views.
Live Camera creates, controls and manages all views from the 'flying' server system, with live view adjustment for each of your client system cameras.
Live Camera allows joystick buttons and keyboard key sequences to be assigned to individual or multiple views.
Live Camera enables default views to be specified facilitating the use of multiple screens or the creation of panoramic views over networked systems.
Live Camera supports Windowed Views for use on multi-screened computer systems.
Live Camera does not require you to make any changes to the control assignments.
Live Camera provides ultra-realistic Dynamic Head Movement, or virtual cockpit camera shake, based on actual real-life captured 3D accelerometer data.
Live Camera supports Automated Head Movement to assist the pilot whilst taxiing and banking in a turn.
Live Weather Features
Live Weather constructs Dynamic Weather from current live METAR data.
Live Weather provides instant weather updates.
No more unrealistic clearing of the weather prior to updating.
No more annoying screen flicker as METARs are 'slowly' loaded into the sim.
No more unrealistic globalized weather from horizon to horizon.
No more inconsistencies with distant ATC and ATIS reports.
No more METAR voids or unrealistic METAR data morphing.
Live Weather allows you to see the changing weather patterns en route as you fly.
Live Weather allows you to see low lying mist and fog patches.
Live Weather creates very realistic cloud and visibility layering.
Live Weather allows you to load your own weather using a simple METAR import file.
Live Weather allows you to create your own named weather themes or scenarios.
Live Weather allows perfect synchronisation of dynamic weather and cloud formations on networked systems.
Live View Features
Live View synchronizes the aircraft's current position, attitude, flaps, gear and lights.
Live View employs and optimizes multiple dedicated high-performance IPC network links, with Client Side Smoothing software, to provide the highest level of performance and the smoothest possible operation.
Live View requires minimal set up and configuration to get up and running.
Live View on the demo version of OpusFSX will run for 10 minutes allowing you to evaluate the software and ensure full compatibility with your system.
The latest Live Weather Engine requires internet access to obtain the latest live weather (met) reports for the area you are flying in. These live reports are used to construct Dynamic Weather and synchronize the weather on all networked OpusFSX systems.
All Dynamic Weather is constructed using a grid of 15 x 15 (225) localised weather cells, each weather cell covering an area of 32km x 32km. The total weather grid covers an area of 480km x 480km (300 x 300 statute miles, or 260 x 260 nautical miles) centred on your aircraft's current location. Configuration options allow the user to specify the frequency of weather updates based on both time and distance travelled.
As you are probably aware the use of METAR data to update the weather in the simulator leaves a lot to be desired. To adjust the weather correctly using METAR updates you are forced to either use unrealistic globalised weather, resulting in inconsistencies with ATC, or clear the weather and reload the new METAR data one station at a time. This update process is not only unrealistic, but can result in a great deal of screen flicker while the simulator slowly loads the new METAR data. There are also problems with METAR voids, METAR morphing, and weather synchronisation across networked systems using METAR updates. These problems are inherent within the simulator. On the other hand, our Dynamic Weather loads instantly into the simulator with no screen flicker or disturbance to the flight, no weather morphing, and no inconsistencies with ATC.
Third-Party Weather : Should you wish to use an alternate weather source, we provide a simple means to allow the user or third-party weather engine to load METAR reports into the simulator via the OpusFSX interface. This interface will allow you to take advantage of our Dynamic Weather creation and instant updating within OpusFSX. All METAR reports can be specified in either standard or extended FSX/Prepar3D format.
In such circumstances, OpusFSX will load all METARs created by the user or the third-party engine that are contained within the specified text file. These reports will be used to construct Dynamic Weather and perform a weather update of the system. This interface will also provide users with a simple means to create their own global or localised weather themes by specifying the required METAR string(s) within the import file (the global ICAO station code GLOB can be used to specify global weather).
Please refer to our Products page for further details.
The trial version of OpusFSX can be downloaded from
www.opussoftware.co.uk/opusfsi.htm
Edited by OpusFSI, 31 August 2012 - 09:55 AM.